Or... How to get homebrew into your BeerTender-brand countertop tapper/refrigerator.
So... For Christmas, I got one of those T-fal BeerTender machines, which is a countertop kitchen appliance that refrigerates and serves beer, but ONLY out of the little 5-liter
Heineken
or Newcastle DraughtKegs (i.e., other mini-kegs are a no-go). My first thought, of course, was how to get my homebrew in there! They (the naysayers) said it couldn't be done. And my having zero experience with kegging could have been another setback... or was it?
Well... against all odds and uncertainty, I am very pleased to announce that as of about a month ago, it appears that my wee bit of research and ingenuity paid off. Yes, this baby was designed specifically to fit comfortably and function adequately inside the BeerTender, even with the little Presta valve attachment intact (which I will describe in more detail later). And, it wasn't too difficult or expensive to put together -- you might even say it is elegant in its simplicity. So without further adieu, here's what I ended up with. You'll notice -- that ain't no
Heineken
coming out of the tap!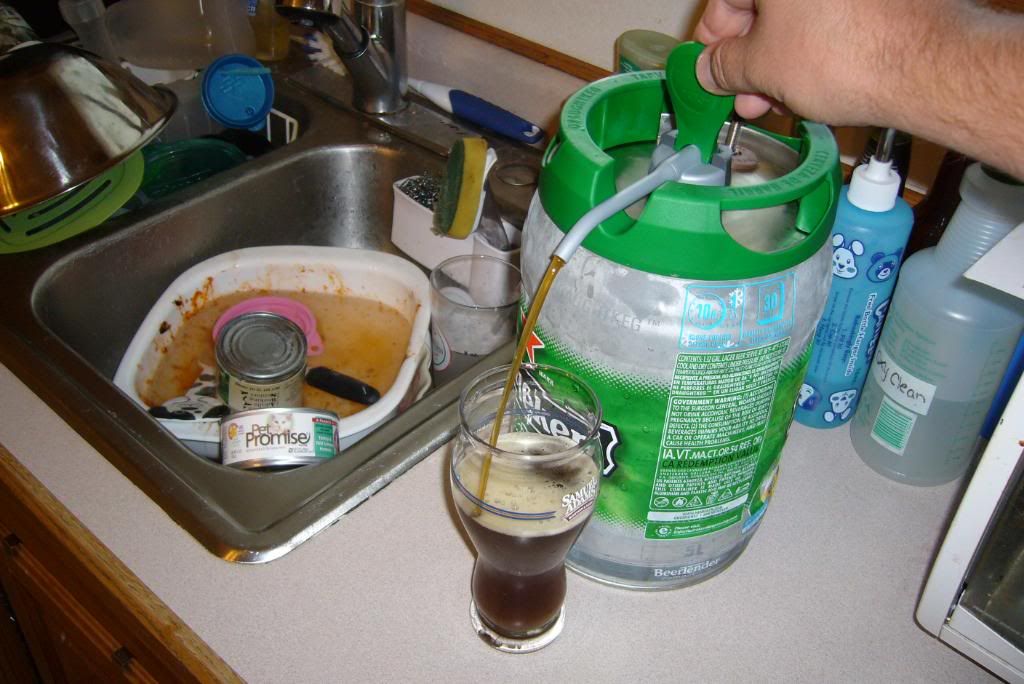 Below is a closer look at my IPA, the guinea pig of brews. Note how dark it is -- that is MY idea of a good IPA. Tastes like Cascadey grapefruit goodness up front, with a smooth peanuttiness in the finish, and doesn't finish too harsh or metallic or sulfury or anything off like that, as one might anticipate after drilling holes in metal and whatnot. But no, no off-flavors detected (hooray!). It is indeed a bit cloudy, but that's fine -- it was keg primed just 10 days ago using 1 tablespoon of table sugar, and has only been in the refrigerator for 24 hours. So, the yeast no doubt needs a few days to settle out properly. Yet it did have enough natural pressure to easily push out 2 pints and then some.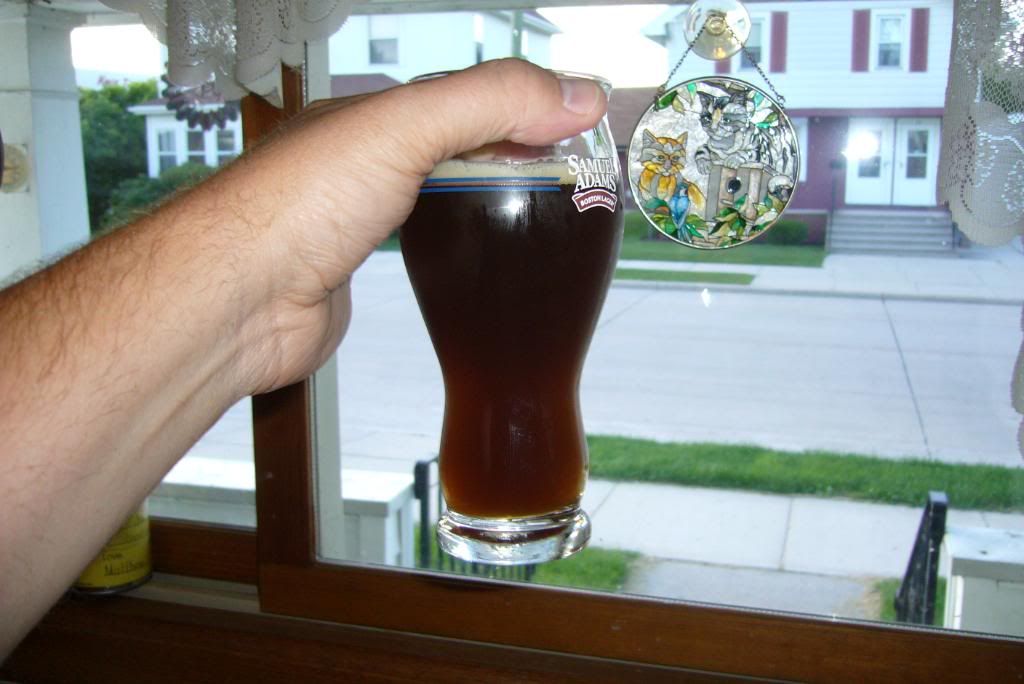 So now, yes, I have proven that I will be able to serve my homebrew from the convenience of my kitchen counter! And with reduced hassle of having to bottle all those beers... ugh, bottling does get tiring after 70-some batches, let me tell you. Obviously I haven't hooked up all the hoses correctly yet, but if you're familiar with the BeerTender at all, yes, absolutely, it will work. The only snag I foresee will be having to open the lid of the Tender every couple of pours in order to get more CO2 in to push out the beer. Here is a view of my BeerTender, prominently placed right next to some clean glassware by the sink. Nice, cute little machine. I like it. Really just a refrigerator with a special tap connection.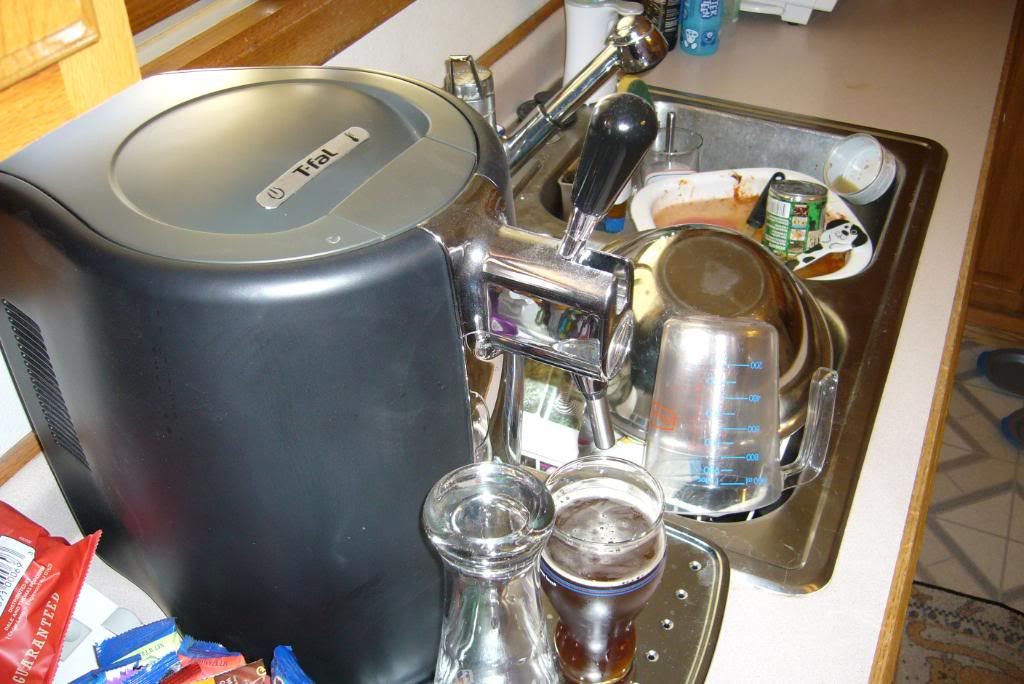 How did I do it? Like I said, all it took was a little research. My primary source of information was
http://www.angelfire.com/cantina/carbon ... System.htm
. So I cannot say this is 100% my idea. But as far as I know, I'm the first guy to waste enough time playing with the
Heineken
kegs to successfully push out homebrew.
The first step, obviously, was to drink a couple kegs of
Heineken
, which actually is quite good if you get it on draft, nothing at all like that skunked garbage they serve in the green bottles. So, as soon as you drink all the
Heineken
, drill a 3/4-inch hole in the keg at the flattest portion, file down the edges a little so it doesn't cut up your bung too bad, consider painting the exposed steel if desired? (I didn't do that yet), clean and sanitize, and set aside. I actually left my keg for a few weeks full of StarSan. I even blew in a little CO2 to push sanitizer through the permanent beer line that you can't clean in there otherwise. I figured, this way, the keg and beer line and the CO2 canister that is permanently stuck inside are all in contact with the sanitizer, and everything would just be better off soaking in the sanitizer solution for a while. I also rubbed a bit of Vasoline on the newly exposed steel on the 3/4-inch hole in the hopes that this will help prevent corrosion.
Otherwise, for parts, it is as simple as: a 2-piece mini-keg bung, a bicycle inner tube with a special valve known as a Presta valve, and a CO2 charger. And that's seriously about it! Not terribly expensive or difficult. Drill a little hole in your bung, cut the Presta valve down so it fits inside, clamp her down with the little nut that comes with the Presta valve (yes, it comes with!), and you're basically done. The biggest expense from here on out will be the CO2 refills. From what I've gathered, it might take one canister per keg or two. Buy them in bulk if possible and you can probably save a few bucks. I haven't investigated paintball shops yet but suppose I should look into it.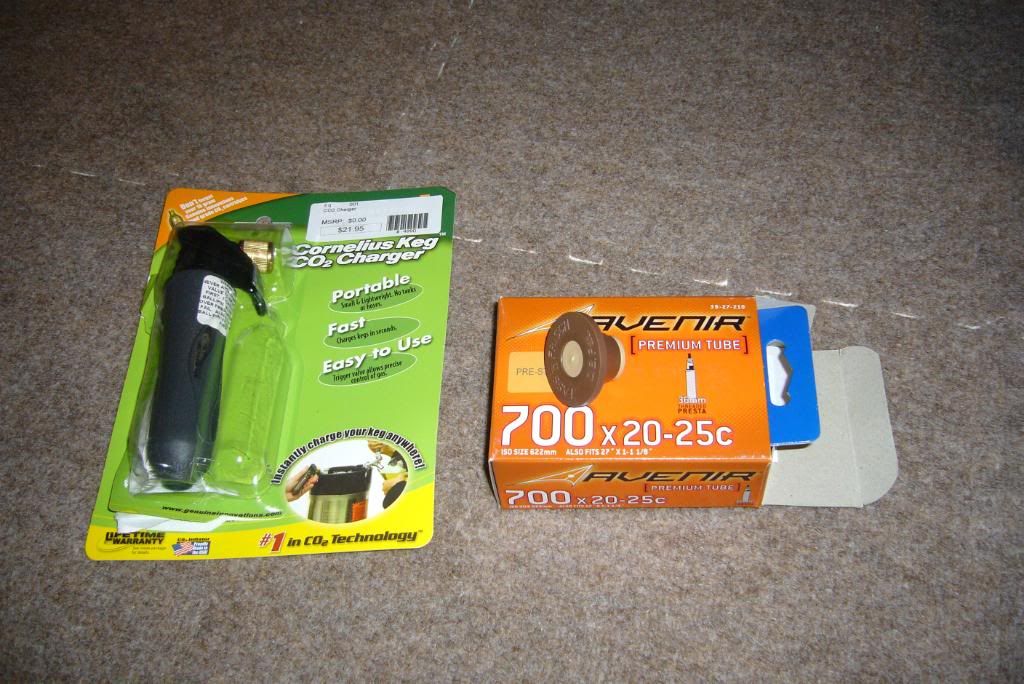 And finally, setup -- you'll of course need to saw off one third of the green part on top of the keg in order to drill your hole, and to get the bung/Presta valve setup on there nice. For the rest of the bung setup, I really just followed the first third of
http://www.angelfire.com/cantina/carbon ... System.htm
. It worked like a charm. Here are some closer looks at the top of the keg.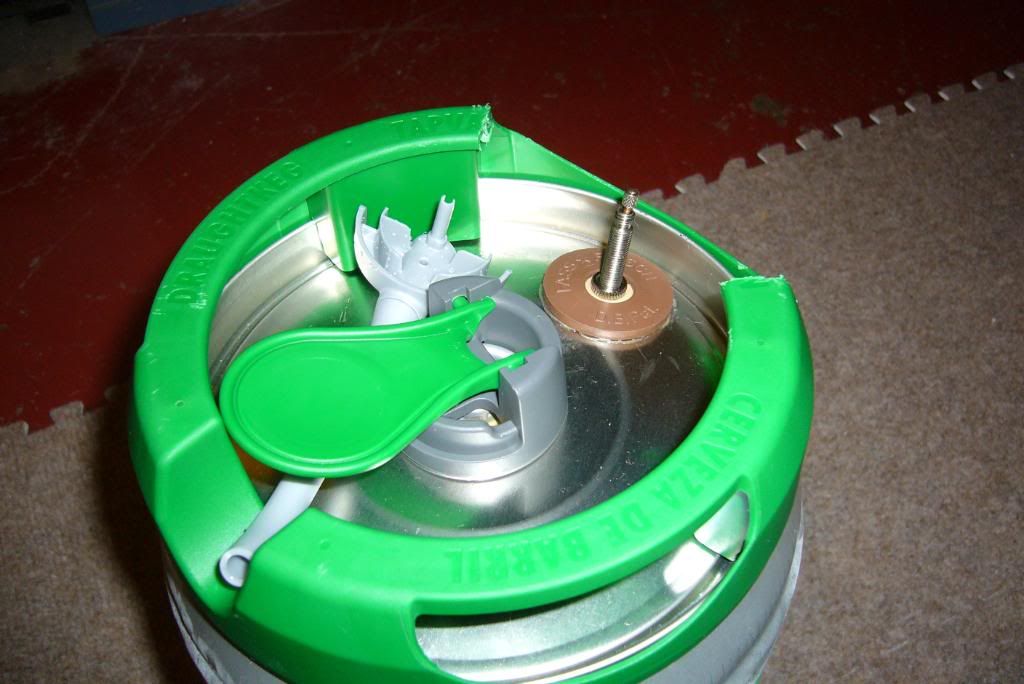 And showing how to get the CO2 in.
I filled with brew to within 1/2-inch of the top, with a tablespoon of regular table sugar to prime (boiled first in a little water, of course). Getting the bung to fit in the 3/4-inch hole was a royal pain in the thumbs! I ended up having to coax it in using a screwdriver, being very careful not to tear the bung to shreds. Vasoline also helped, but couldn't get it in all the way (sounds like a personal problem!?). The screwdriver did the trick.
Let 'er sit for 10 days, then chill, and the rest is history.